Lost Luggage Lessons

Summary
This story tells how American Airlines lost our luggage on a flight from Miami to New York, what we and American did to locate the lost luggage, and how we were finally able to retrieve it. Hopefully this story will help others who might be unfortunate enough to encounter similar circumstances.
The Setup
My wife and I planned a 3-legged trip from Los Angeles to Sanibel Island, Florida, and then to New York City, with a final return from New York to Los Angeles. Our trip began 10 Feb 07 and ended on 20 Feb 07. Our itinerary allowed for five days in Sanibel and 5 days in New York. My wife made all the reservations ahead of time through the American Airlines website.
Sanibel is a small resort-type island off the west coast of Florida, and we were going to visit old high school friends there who offered to share a condo they own with us. To get to Sanibel you fly to the airport at Fort Myers, Florida and then drive the short distance to Sanibel Island. You can see photos from our visit to Sanibel by clicking here.
Since we had to pack clothing for both warm and cold climates we had two pieces of rolling luggage and two small carry-ons plus we carried the heavy jackets we would need in New York. Since we had to change planes in St. Louis on the leg from Los Angeles to Fort Myers and again in Miami on the leg from Fort Myers to New York we decided to check the rolling luggage pieces. Of course, checking luggage is always the first step in the process of ending up with your luggage being lost.
Our journey from Los Angeles to Fort Myers was uneventful. Our luggage arrived at Fort Myers just fine and we had a great time visiting with our friends. The day before (Wednesday, Feb. 19) our flight to New York we checked the weather conditions and learned that there was a large winter storm in the northeast that caused several airlines to cancel flights that day due to snow, ice, freezing temperatures, and other reasons.
On the day (Thursday, Feb. 20) of our flights to New York we checked the weather again and also the status of all flights from Miami to New York. All were listed as on schedule. We got to the Fort Myers airport in plenty of time and had no problem checking our baggage through to New York's JFK airport. I made sure to see that the tags the airline agent put on our bags did indeed say JFK on them.
The Problem
Our flight from Fort Myers to Miami was on a small, two-engine prop-jet and when we landed we were able to see our checked luggage being unloaded from the plane and put on one of the luggage carts. As it turned out this was to be the last time we'd see the luggage for another day and a half.
Because our small prop-jet was not able to reach a jetway we had to de-plane at an outlying terminal and take a bus to the main terminal. During the bus ride my wife, who had previously signed up at the American Airlines website for flight status notification via cellphone, received a call telling us that our flight from Miami to JFK had been cancelled. Needless to say this significantly raised our anxiety level, so when we reached the Miami terminal we moved quickly to find the Departure screens to see what was going on.
We discovered that American had cancelled all flights to JFK. The Miami airport is large and we did not want to waste any time trying to get to a different airline, so we walked up to the first American Airline flight check-in station we could find. Fortunately the station was manned by a supervisor who was very helpful. She told us the cancellations were due to bad weather in New York, and that American was likely to cancel its flights to La Guardia airport as well. She told us that even if the La Guardia flights were not cancelled the airport there had only one of its two runways working and there would likely be lengthy delays due to the backup at JFK and the inoperative runway. She suggested we fly to Newark, New Jersey on a 6:45pm flight instead, and, given the information she provided and the fact that we had flown in and out of Newark before we agreed to this reschedule.
The agent quickly got us re-ticketed to Newark. I asked if our luggage would make it to Newark OK and she assured us it would because "Everyone knows about the cancelled flights to JFK." The whole re-ticketing process took only a few minutes.
Our flight to Newark was uneventful and when we arrived we went straight to the baggage claim area. After waiting at the baggage carousel for about 45 minutes it became clear that our two pieces of checked luggage were not going to appear.
We proceeded to file a Lost Luggage Claim as did many other people from our flight. The process of doing that was rather chaotic because all the passengers were somewhat upset and the agents handling the reports were speaking Spanish to each other in between taking information from the waiting passengers.
The Attempted Recovery
American Airlines has one 800 number to call for reservations, schedule changes, and other travel related issues, and another 800 number just for delayed or lost luggage issues. My wife called the latter number and, after negotiating one of those lengthy automated telephone menus, was told that it takes about 90 minutes to process the information from any flight and that we should call back after 10:00 the following morning.
We got to our daughter's apartment in Greenwich Village about 11:30 PM with no problems, but also with no luggage.
My wife called the 800 number the next day around 10:15 and was told American Airlines would authorize us $25.00 to purchase toiletries etc. Since we were staying with our daughter we really didn't need these types of items. What we did need was underwear, a change of clothes, and our cold weather clothing because it was well below freezing outside.
During the day my wife made several more calls to the time-consuming 800 number voice response system attempting to find out where our luggage was and when we could get it back. She discovered a way to bypass the telephone tree and get directly to a real person, but this was of little help. The people she spoke to wanted to know things like what our luggage looked like, what was inside it, what the order was for things packed inside, and even what color the striped pajamas were. (I am not making this up!)
One of the agents told her we needed to wait at least 24 hours or until the following day's flight that we had been scheduled on had arrived at JFK. Of course we had no idea about that flight's schedule.
You may be aware that airline luggage tags have barcodes on them as well as destination identifiers. During one of her conversations with one of the 800 number agents my wife asked if they could use the barcode data to locate our luggage. She was surprised to hear that the airlines don't scan the barcodes at each airport and consequently no one knows where any piece of luggage is at any given time. Obviously the airlines could learn a few things from companies like Federal Express or United Parcel Service, or even the US Postal Service.
What the people at the 800 number did tell me wife was that they were "sending messages" to the various places our luggage might be. I wondered if they were using smoke signals to do this since they had no information about where the luggage might actually be and the status of lost luggage never changed.
My wife made repeated calls to the 800 number throughout the day and by late afternoon it was clear that no progress was going to be made. One of the items packed in our luggage was the AC adapter for my wife's laptop computer. She was scheduled to use this computer for a series of training workshops the day after we returned to Los Angeles, so we ordered a replacement adapter online using my daughter's computer. We went out to dinner and decided to try calling the 800 number again the following morning. We also stopped at a department store and bought some new underwear for both of us.
The Actual Recovery
The next day my wife called the 800 number again and received essentially the same information, which in actuality was no information. So we decided to make the trip back to JFK and look for the luggage ourselves. Since we had made this trip many times before we were prepared for the 90 min. transit time each way, not to mention the $7 subway and air train fares per person in each direction.
We got to the American Airlines terminal at JFK airport around 1:00 PM and went to the baggage claim area. We found the Lost Baggage area with little trouble; it had about 30 bags standing around, none of which was ours. We spoke to an agent who said "follow me" and led us to a large area not visible to the public in which there were several hundred lost pieces of luggage. Here is a picture of one part of that area.
The sight of all that lost luggage was somewhat overwhelming. We didn't know where to look first. The luggage was arranged in small groups with space to walk in between, but there seemed to be no order to the groups. It was clear it was going to take a long time to check everything, so we decided to take a quick walk around and among the groups to see if we could spot our two pieces of luggage. I did notice that almost all of the pieces of luggage had airline tags on them as well as the personal labels or tags which are required for all checked luggage.
As luck would have it my wife spotted one of our pieces in less than two minutes. About a minute later I found the other one. Both pieces were undamaged and had both our tags and the airline tags on them.
As we were wheeling our luggage out of the area to have its numbers checked by one of the agents we saw a middle aged woman hugging one of the agents and crying, saying she was so happy to have found her missing bag. Another young man appeared and he too quickly found his lost bag as well.
Here is a picture our daughter took of us with our just-found luggage.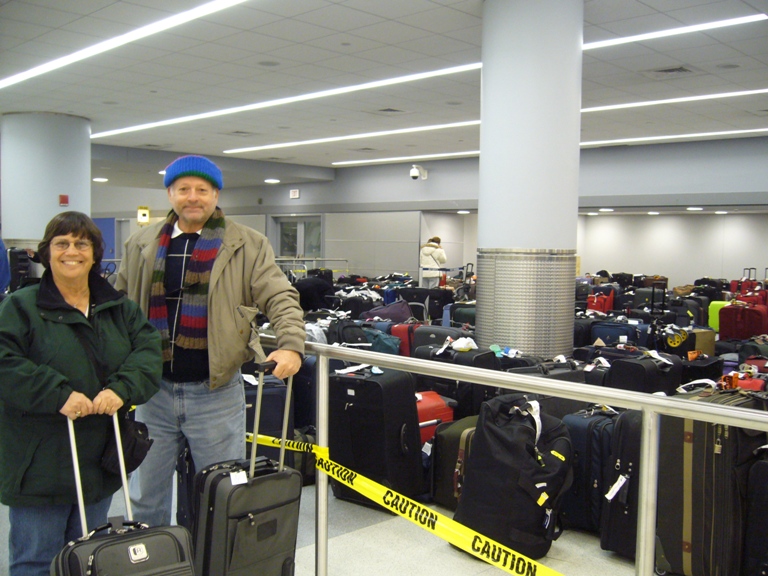 We asked one of the agents if any American Airline employee ever looks for someone's lost luggage and she said "Heck no. We don't have people to do that." So it is not clear to me what happens to lost luggage that people do not locate themselves.
Lessons Learned
We learned several lessons from this experience:
Checking luggage is probably OK as long as your flight itinerary does not change once it has begun.
If your itinerary does change and you have checked luggage you are in serious trouble since there will be no one you can talk to who will have any idea where your luggage is or where it is going.
If you have to call the 800 number you should find a way to talk to a higher level person and not one of the agents who (finally) answers the phone.
The airlines are both understaffed and lack the information necessary to find lost luggage, so do not expect them to provide this level of service.
If something unusual happens to your luggage be prepared to take the required corrective action yourself.
Never check anything you truly value.
Feb 2013 Update: there is a new website dedicated to helping retrieve lost luggage; click the following link to see it.